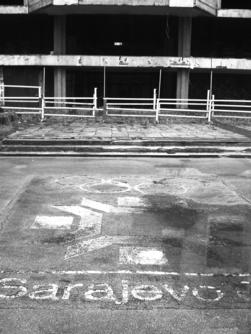 Media
The Politics of International Aid: A visit with Simone Dietrich Assistant Professor, Political Science
Published: May 13, 2014
SyndicateMizzou http://syndicate.missouri.edu/articles/show/160
By Spencer Melgren
Dr. Simone Dietrich, Assistant Professor of Political Science, studies a broad range of political subjects with particular interest in international aid allocation and effectiveness. Dr. Dietrich has conducted field work in international development across the world, and pulls from these experiences to develop and conduct data-oriented inquiries into the political and economic mechanisms that interact with international aid. "Academics don't explain trees—we explain forests," she tells us, and in her main projects Dr. Dietrich combines many different pieces of data to develop a clear picture of larger trends in the politics of international aid.
After earning her MA in Political Science Dr. Dietrich became a development practitioner with the Organization for Security and Cooperation in Europe. Her work with this group placed her "on the ground" in Bosnia, a country experiencing high unemployment rates, stagnant politics, and ineffectual governance despite the presence of numerous international actors supplying development aid. The question for Dr. Dietrich became, with many international organizations and donors pushing development in the region, "why aren't things getting better?" Thinking about the many issues at hand, Dr. Dietrich realized that she could make a solid contribution by returning to academia and "studying these puzzles… to inform people who are actually making decisions" about political interventions and international aid allocation. After this realization Dr. Dietrich enrolled at Pennsylvania State University and completed her PhD in Political Science in 2011.
There is presently a debate in political science literature regarding the effectiveness of international aid in its various forms, Dr. Dietrich tells us. Some argue that aid is ineffective because it encourages corruption and decreases a government's incentive for sustainable self-development. Others argue that aid is essential, pointing to the success of international aid in reducing HIV/AIDS and infant mortality rates in Africa, and claim that donor countries must commit to a "big push" to help poor countries develop. Dr. Dietrich believes that "a better question to ask is 'under what conditions can aid be effective?'" To contribute to literature on this subject Dr. Dietrich examines the strategies and tendencies of countries that provide international aid. "That is essentially what the bulk of my research has focused on," she says, "different [donor] tactics and how they affect development and democratic consolidation."
As part of this research Dr. Dietrich is working on a book project that examines donor decision making and political orientation. "The big empirical puzzle" came from Dr. Dietrich's field experience implementing the "Bulldozer Initiative" in Bosnia. With the slogan "50 reforms in 150 days," this joint British-USA program recruited Bosnian businesspeople to draft reform proposals and then pushed these reforms through the Bosnian parliament. The goal of these proposals was to "remove legislative barriers" to development and improve the country's investment climate, but the effort was received differently by different governments. Britain and the US, the sponsors of the program, were pleased. France and Germany, however, were "livid," Dr. Dietrich says, because they felt the initiative undermined the efficacy of the state. Observing these reactions Dr. Dietrich developed the main argument for her book, that "national orientations about the appropriate role of the state in development are essentially reflected in the international plane as well." While Anglo-Saxon donor governments turn to markets to deliver aid, more state-oriented governments like France and Germany continue to engage the recipient government in aid delivery. To examine how national orientations impact donor decision making, this book project combines cross-country aid data with information collected directly from foreign aid decision makers. Her book project also examines changes in national orientation based on the political party in power and how this impacts aid allocation. "We see changes over time in how donors not just provide services at home, or engage the state, but how they do their business abroad in terms of delivering aid," she says.
After examining why donors make their aid allocation decisions the next step is to understand how these choices impact the effectiveness of aid. Dr. Dietrich is currently pursuing two research projects in this area. The first, a study of international aid in Africa coauthored with Joseph Wright at Pennsylvania State University, seeks "to better understand the causal mechanisms that link foreign aid and democratic change in Africa." Over the past 20 years hundreds of billions of dollars have been given around the world in pursuit of democratic consolidation, particularly in Africa. These aid flows have contributed to "numerous transitions to democracy or multipartyism," yet have produced "little evidence of democratic deepening" in terms of government accountability, development of strong opposition parties, and reduced corruption. Through their work, Drs. Dietrich and Wright attempt to address this puzzle by using "quantitative data to investigate under what conditions [different methods] of promoting democracy work." Their findings thus far indicate that while contemporary methods can facilitate transition to democracy and sometimes improve electoral processes, donor strategies are less successful at strengthening opposition parties to "level the playing field."
Dr. Dietrich's second main research project examines "the effect that foreign aid has on the beneficiaries' attitudes towards the sponsoring country." When aid is delivered the products are often branded in an attempt to evoke gratitude. USAID, for example, brands their aid items with a logo that depicts shaking hands and is labeled "from the American people." In this study, Dr. Dietrich and her collaborators intend to "evaluate systematically whether this conventional wisdom about aid leading to these positive views toward the sponsor is in fact borne out." Dr. Dietrich is currently working with USAID to collaborate on a field experiment in a developing country that will set up an experimental evaluation to see if peoples' attitudes change after receiving branded aid.
In her work Dr. Dietrich employs data for strength and relevance. Data, she tells us, has three purposes: to test arguments, to serve as a common reference point when communicating with people and policy makers, and as a means of educating students. In pursuit of these objectives academics can use different types of data. Researchers can use anecdotal, qualitative or quantitative data, each of which has strengths and weaknesses. "I leverage all of [these types of data] in my work," Dr. Dietrich tells us, to make her "story or argument more compelling to a wider audience." "My work thrives on the anecdotes and the personal stories to illustrate the mechanisms, but the real nuts-and-bolts of my use of data lies in the area of quantitative methods" she adds. It is the combination of these different types of data that support Dr. Dietrich's work. "In some sense, it's all about bringing different pieces of data together and analyzing them to tell a compelling story that adds to theoretical knowledge in the field as well as adds to the understanding of the actual people who work with aid."
"It matters to me very much that what I do has a purpose beyond scholarly debates…I want to do something that is also of use to students and policy relevant," Dr. Dietrich says. "I'm fundamentally motivated by helping policy makers understand and find solutions." While she knows that her work is not likely to fundamentally change how countries allocate their international aid, Dr. Dietrich hopes that her work will help aid agencies around the world to "think about the complexity of aid delivery strategies more clearly."
About SyndicateMizzou
SyndicateMizzou is a one-stop, web-based resource for information on research and creative activity at the University of Missouri. As an electronic hub for news from all areas of the MU campus, it aims to serve a variety of audiences: citizens of Missouri, prospective undergraduate and graduate students, alumni and alumnae, legislators and other governmental officials, and national and international colleagues and institutions.